Jedime's Po' Boy Star Wars Customs
Captain Okto
(from Galaxies)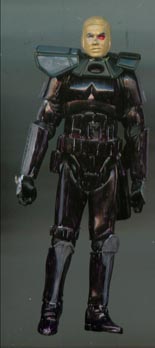 I should just preface all of my Galaxies characters with "I have no idea who this is or what they do" Now that I have that out of the way, I'd like to point out that besides not having a left eye, Okto also has no ears. Why? Because I needed a bald head, so I used the 30th Stormie head, who has his head covered and painted it fleshtone. Hence, no ears.

Home|Micro Machines|Hasbro


This site owned by Infinity LTD, © 2007.