Jedime's Po' Boy Star Wars Customs
Chewbacca (Marvel Special Edition)
(from Marvel Star Wars)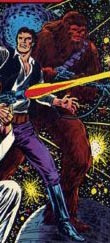 Occastionally Hasbro likes to change one figure in a multipack and leave the rest alone. Such is the case with the Han/Chewie Marvel Comic Pack. With very little options for Chewbacca, I simply found another Marvel comic rendering of him and repainted where appropriate.

Home|Micro Machines|Hasbro


This site owned by Infinity LTD, © 2008.