Jedime's Po' Boy Star Wars Customs
Ekria
(from Evasive Action: Reversal of Fortune)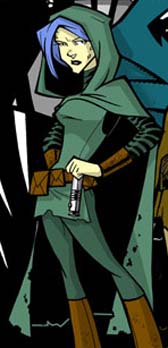 I was first going to make Ekria from Bariss Offe, so I was glad that when the Dark Woman came out so I didn't have to use the static pose. I had assumed that Ekria was the same species as Bariss and Luminara, because in the single color pic released of her she has green skin, and her she has facial tattoos. According to Wookiepedia she's the same species as Ghent, who has blue hair and also has similar facial tattoos. I always assumed that Ghent was Human, so I've sticking with my own theory. I also take no responsibility for the fact that she looks worried. The eyebrows were left alone.

Home|Micro Machines|Hasbro


This site owned by Infinity LTD, © 2007.