Jedime's Po' Boy Star Wars Customs
Fenn Shysa (Saijo)
(from First Strike)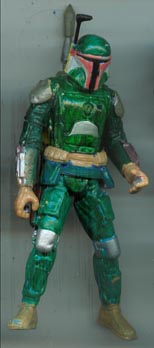 So I make a Toon Boba Fett and Hasbro makes him, so I repaint him into a Marvel version, and now Hasbro is making that one. Even though Fenn's armor is a little different than Fett's I choose to do him since another comic Fett figure has a better chance of being made.

Home|Micro Machines|Hasbro


This site owned by Infinity LTD, © 2007.