Jedime's Po' Boy Star Wars Customs
Stormtrooper (Kessel)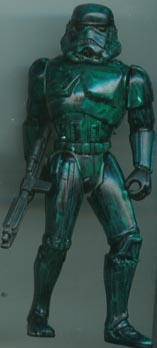 My helmetless Stormtrooper was yet another custom made obsolete by Hasbro, which is fine, since it was a '95 Stormie, but then I needed something to do with the too-buff figure. I decided to make a green Stormie, based on the description of Kessel from the truely awful Jedi Prince series. In it, everything on Kessel is described as being green - the droids, the clothes, everything. Since it's an Imperial controlled planet, I figured there may as well be some green Stormtroopers running around.

Home|Micro Machines|Hasbro


This site owned by Infinity LTD, © 2007.