Jedime's Po' Boy Star Wars Customs
Stormtrooper (Vader's Fist)
(from Perfect Evil)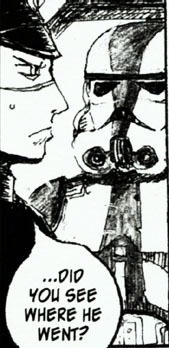 I usually skip black and white characters, but assumed that this 501st painted Stormtrooper would keep the Clone blue (although I suppose it could be black). This character is from one of the two volumes of Star Wars Manga - Star Wars: Silver and Star Wars: Black that are unreleased in the US. I bought them through amazon.co.uk, which has the English translation and will ship overseas.

Home|Micro Machines|Hasbro


This site owned by Infinity LTD, © 2007.