Jedime's Po' Boy Star Wars Customs
General Veers (Crew Jumpsuit)
(from The New Essential Guide to Characters)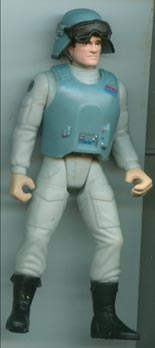 Back when the OTC Scanning Crew Member was impossible to find, I won him on eBay. Then I got him in the mail, and it was a Falcon case version. Luckily I got my money back, got to keep the figure, and then won the one I was looking for for less! All of that led to this figure. I didn't know what to do with the buff body, but Veers' armor seemed to hide it fairly well.

Home|Micro Machines|Hasbro


This site owned by Infinity LTD, © 2007.